Only 2 sleeps to go until we head home after 3 months (13 weeks) living in New York City. 🙁
My husband Brett and I fulfilled our goal to live like locals, enjoying our time spent in the yet-to-be-gentrified culturally and economically diverse East New York. Once the murder capital of New York, we have loved the experience of living here and have felt safe 99.9% of the time.
There is a real sense of community here and I think people started to think that us minority caucasian folk with funny accents weren't just transient tourists; that this was now our home. Even the guys at the party house down the road started warming to us and us to them. It will be hard to simply slip out quietly without saying goodbye to those who've welcomed us, but I guess that's the nature of travel.
The icecream trucks here in ENY sell their single soft serves for $2, that's half the price of the icecreams in Manhattan so we're definitely going to miss the icecreams. A cheese pizza slice costs 99c. Madness. Wonderful, tasty madness. 🙂
I'm going to miss being able to simply get on the 24 hour subway and head into Manhattan, one of the most amazing cities in the world where arts, theatre and dining is everywhere, all at once. That's going to be the strangest thing about going home. Being 35 hours rather than 35 minutes and $2500 rather than $2.50 away from Manhattan is going to hurt a lot.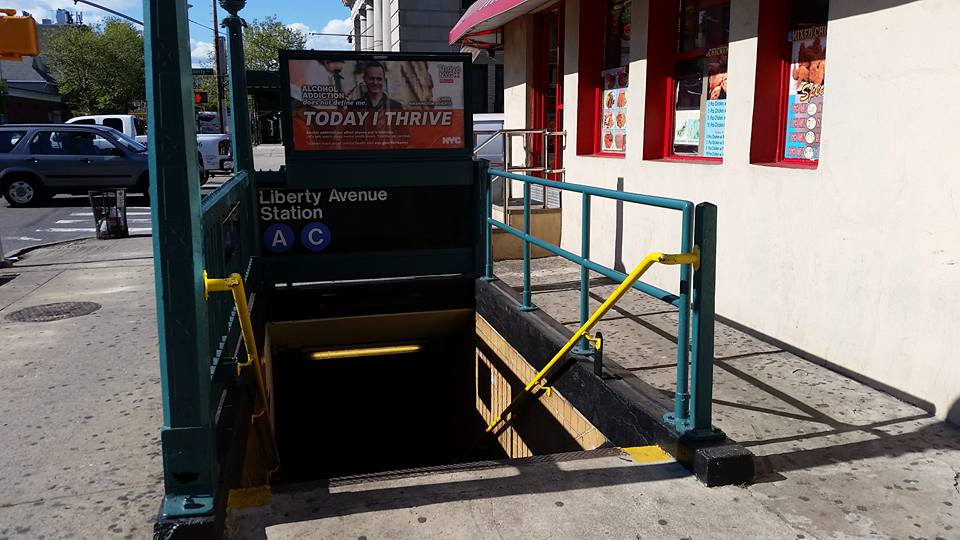 I'm going to miss Original Sin Hard Cider, only sold in NYC (and now London) and the best hard cider I've ever had.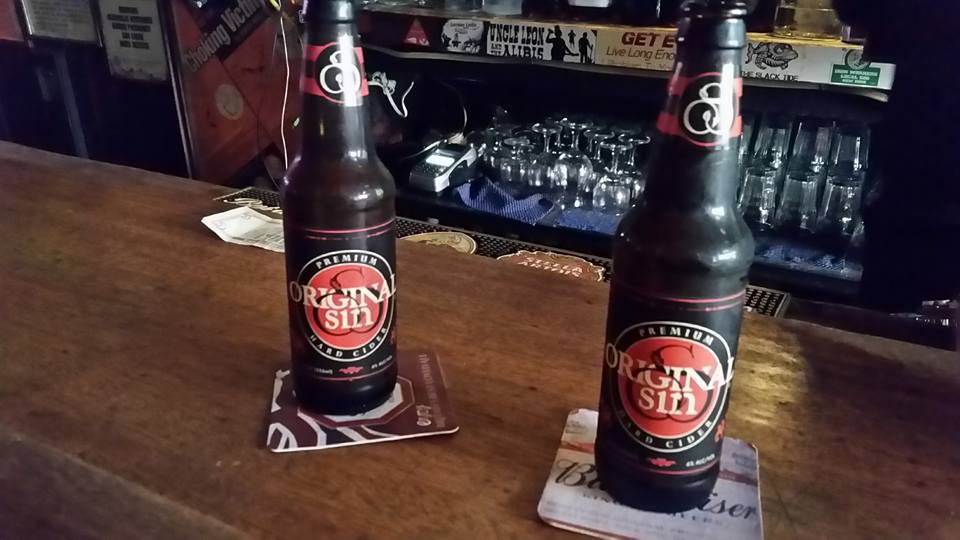 I will miss all the sensational street art that's absolutely and shamelessly everywhere.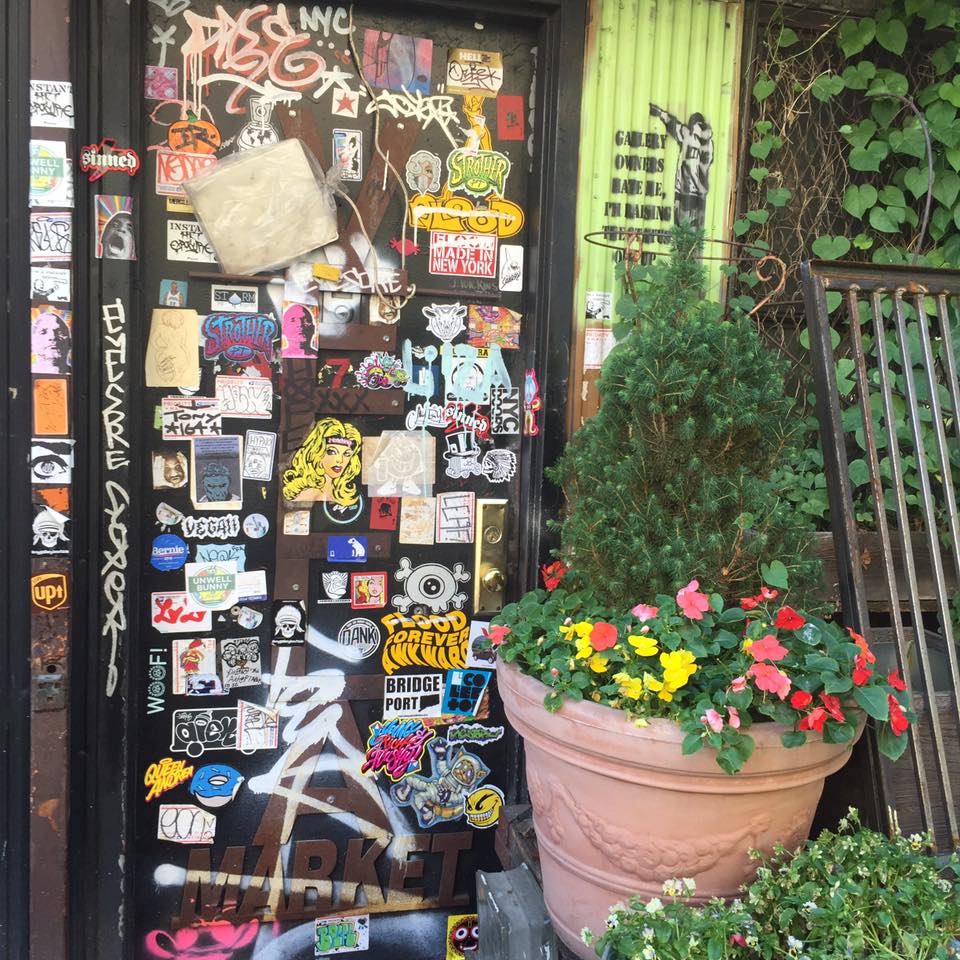 It was incredible how many of our friends happened to visit New York City while we were here. It was wonderful to catch up with so many of them. I loved going to the ENY community garden and Puppet Kitchen with Darryl and his daughter Xena; enjoying some chill time in Central Park with Rachael and Andrew; and hanging out with family – Todd (Brett's brother) and Ross (Brett's Dad). Thank you for sharing this amazing city with us. And thanks to all the support, advice and fun times we received from locals: Carianne, Leigh, Adam and all the other online and puppet peeps.
I'm going to miss seeing Brett in his element, surrounded by likeminded people – those with a passion for Muppet style puppeteering. Those who 'get it' and don't look at him strangely when he explains what he does for a living. Those who appreciate his talent. Those who realise he's truly brilliant at what he does. Here there is a benchmark. In Brisbane it's only him.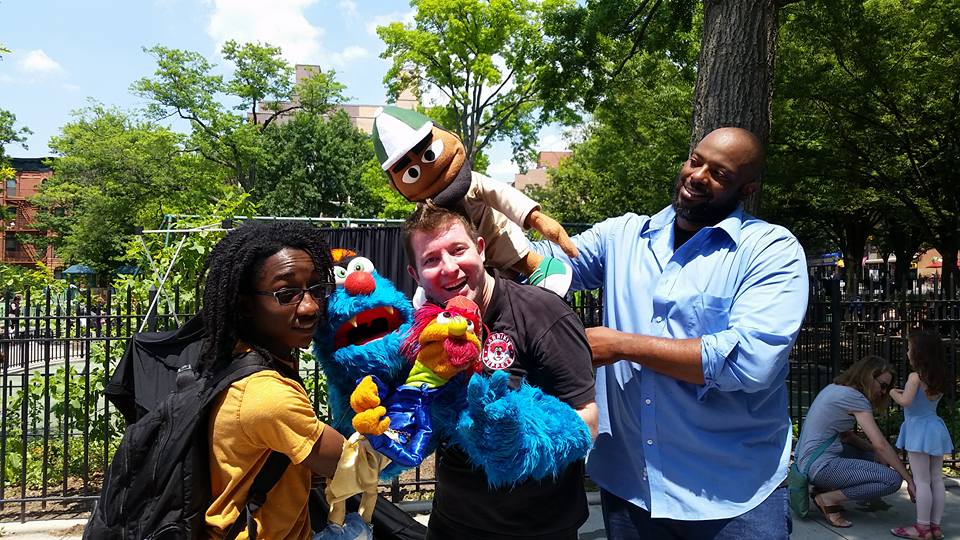 Here (and in Texas at the Beyond The Sock workshop) Brett has both learnt a lot of new skills and had his abilities validated. Validated by those who count like Marty Robinson (Sesame Street's Telly Monster and Snuffleupagus), Noel MacNeal (Sesame Street puppeteer and Disney's Bear In A Big Blue House) and Michael Schupbach (The Puppet Kitchen) plus the countless number of hobby and professional puppeteers he's met while here. We've met some beautifully, crazy, quirky, wonderful people. I will miss seeing Brett's comfort at being in this safe puppetry performance place. Just being himself. Without question. Without confusion. Without judgement.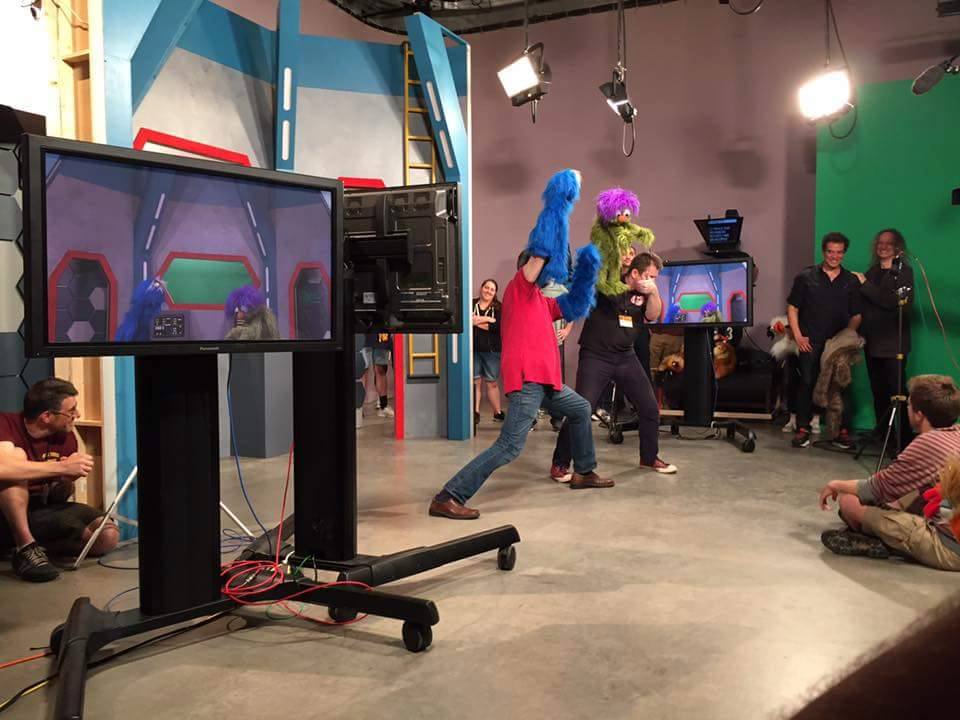 My three training sessions with the very patient and amazing Michael at The Puppet Kitchen monitor nights has given me so much more confidence with my own puppetry, something I've been developing since helping Brett out with school workshops and roving at festivals with Flossy.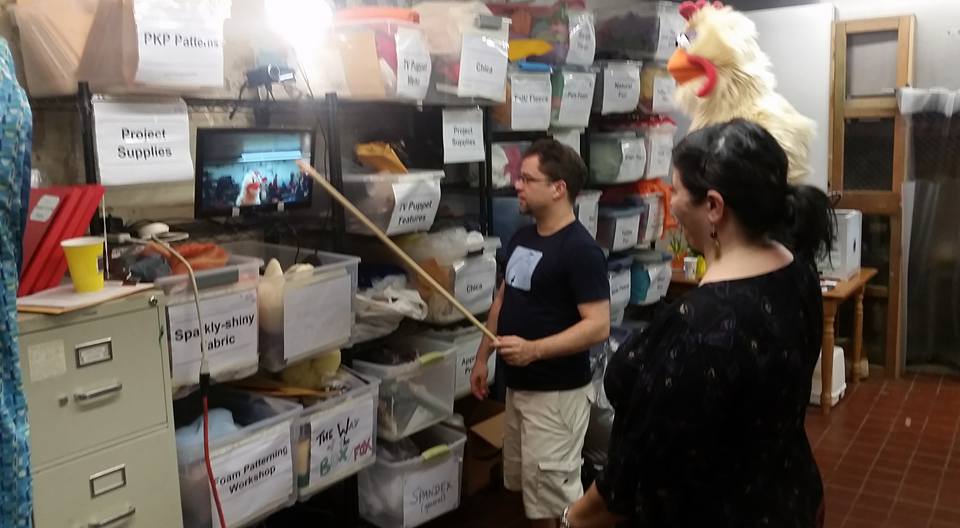 Understandably, with so many temptations, it was a bit of a struggle for me to juggle work and play here. In the final month here I signed up to the Centre For Social Innovation – a social enterprise co-working space – and was hoping to spend a fair bit of time there, but we had a few hiccups with our accommodation and I got the flu so I didn't make as many inroads as I would've liked to. I am only sorry that I didn't discover them on my first week here. But you can't win 'em all! It's an amazing place and I can only sing their praises.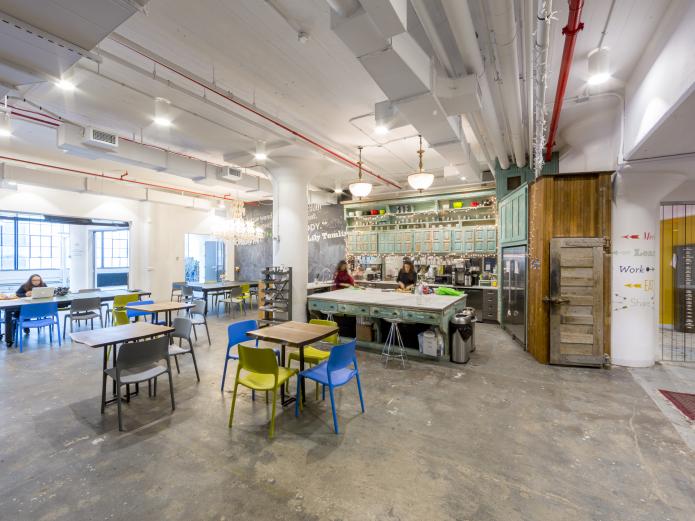 I do wish I could live here and focus solely on freelancing and growing my social enterprises, but sadly the Aussie dollar isn't strong enough for us to live here any longer. We were hoping to travel through Europe next year while I continue to work online, but we've learnt a lot on this trip and we've had to rethink our grand plan.
I've learnt that being a digital nomad is tricky. Travel opens up a whole world of adventure and, for me, there are way too many wonderful distractions that get in the way of fulfilling my financial obligations and entrepreneurial goals. I can't imagine juggling all of that while travelling through Europe.
I've learnt that almost halving your income is unworkable. Not only was I working part-time (due to so many distractions), I also had to almost halve my income due to the exchange rate. Plus Brett wasn't able to work here, so there was no money coming in from his business. This means we had to chew up our savings in order to fully enjoy our time here.
So it's time to start saving again for our next big overseas adventure. Next time I think I will take time off work completely!
Our only consolation is that when we return home, we're going to trial living on Bribie Island for a year – one of our other favourite places in the world – to see if it's somewhere we'd like to live into the future.
I'm absolutely fanging for the beach, so it's a perfect way to return home – certainly not to normal life though! What are you mad? 🙂
We love you, New York. And we'll miss you. Thanks for having us. xoxo