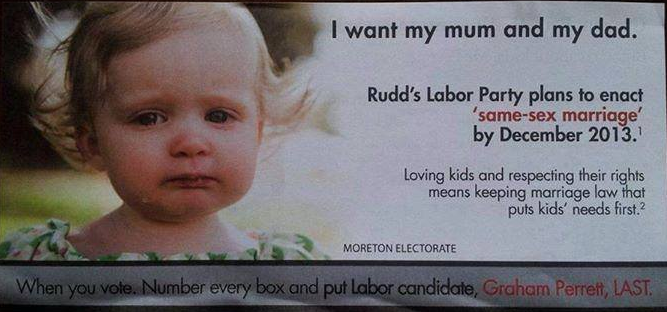 I am absolutely appalled to have discovered that this flyer has been circulating in the Moreton electorate.
On his facebook page Malcolm is denying involvement and suggesting people 'take up any complaints with which ever party or individual has authorised it'. Fair enough.
Fair enough except that Malcolm IS recommending voters preference the fundamentalist Christian Family First Party at #2 and recommending voters preference the racist, homophobic and all-round bigoted Rise Up Australia Party before the Greens – before ME – someone who holds decent family values supported by the majority of Australians! After sharing the hustings with Malcolm, I was personally and grossly offended to see his ticket.
Malcolm supports fundamentalism! That much is clear!
Malcolm, there is no place for fundamentalism of any type in our secular society or in a secular government. There is no place for discrimination of any type in our secular society. There is no place for homophobic scare campaigns in Moreton. Don't be frustrated that people are asking if this propaganda comes from you. Given your support for conservative social values, it's a fair assumption to make.
Despite your How To Vote cards clearly showing you support the sentiments, I call on you to disendorse this crass, hateful, hurtful material at once!