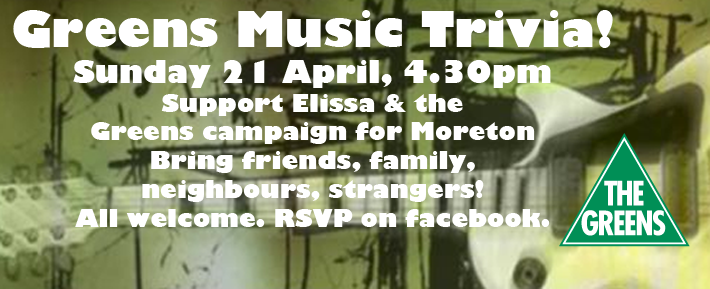 Come along to support the election campaign in Moreton and have fun with us while you're at it.
Lovely Moreton campaign volunteers from Yeerongpilly Greens have concocted some awesome Spicks and Specks inspired music trivia for you and we will have a mini-clothes market of cool threads and a live instrumental jazz band. We will have a 50-50 raffle, so bring your cashola and donate to a good cause.
Where: Western Districts Community and Sporting Club: 55 Queenscroft St, Chelmer.
Cost: $15 including nibblies
Date: Sunday 21st April from 4.30 to 7.30pm
Special Guest Host: Triple Z Presenter, the Greens' own Andrew Bartlett
Other Information: Cheap and yummy dinner and drinks are available for purchase from the bar. Grounds or street parking available. Very close to Chelmer station on the Ipswich line, just go left on Halsbury st. from the station heading to the Community Kindergarten on the corner and turn right at Queenscroft st. Kids welcome, Free <5 and half price for <12 year olds.
Whether you have a penchant for music trivia, support the Greens and what we're about or just love the Western Districts Sports club, whatever your reason, we would love to see you there!!
Please feel free to download the attached flyer and share it with friends, family, neighbours, your local community group or local shop.
Please share our event to your facebook networks. Would mean a lot. Thank you!