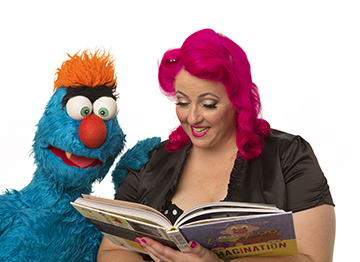 In November 2013, Elissa was named one of YWCA Queensland's 125 Leading Women – as a woman who has made a significant contribution to her community and modelled leadership through her actions and words.
I have a 20 year career in media, marketing, communications and management; three degrees; a collection of awards; a bunch of life experience; and many beautiful stories to tell.
I am sustainably self-employed which warms the cockles of my heart. I run media and production agency Glorytells and am a puppeteer with Larrikin Puppets. I'm also an emerging publisher set to launch two exciting online communities in 2018.
I have worked for a multinational media corporation, in the non-profit sector, in the renewable energy sector, in arts and entertainment, and have supported small to medium businesses and social enterprises to flourish. I am an ideas person and an action person – I make things happen.
In 2011 I wrote a Masters thesis in 2011 titled 'Eco-Social Enterprise: A Hop, Skip & A Jump To Prosperity Without Growth'. I received Griffith Award for Academic Excellence in 2009 and achieved a GPA of 7 for my Master Of Arts.
Prior to being self-employed, I was with solar energy firm BioSolar, growing residential solar sales through media, social media, marketing, referral and testimonial campaigns. While there BioSolar grew from a small $1 million start up with a team of 20 to a $34 million company with a team of 200 and an extraordinary 'big brand' story to tell.
In my early career, I worked for 6 years at The Courier-Mail/Sunday Mail as a writer and editor for real estate, employment and IT. I was widely respected as an IT writer and Internet analyst in the sector's dot com heyday.
Following that, for 6 years I worked for community services NGO Lifeline Community Care (now UnitingCare Community), supporting their communications and fundraising. While there, I raised $1 million in a week (250K in 24 hrs).
EARTH without ART is just EH.
My husband Brett Hansen runs award-winning arts entertainment business Larrikin Puppets, with puppetry performed in the style of Sesame Street/The Muppets. As a puppeteer, I perform the main characters Flossy and Marina, and other background characters for Larrikin Puppets' large festival and touring shows plus childcare centres, schools and libraries. I perform as a human host for 'Story Time With Larrikin Puppets', reading stories and singing songs for audiences 2-5. I also assist in the running of puppetry workshops for children and adults.
I have received formal puppetry training at The Puppet Kitchen in Manhattan, New York under Michael Schupbach (Sesame Street, The Jim Henson Company). Even prior to my work with Larrikin Puppets, I've always loved supporting the arts and was a Board Director for Brisbane's 4ZZZ from September 2010-September 2011.
Elissa is a leader in the social justice and environment movements, locally and globally.
I have run 5 times for public office. In 2013 I ran as the Greens federal candidate for Moreton, Queensland's most marginal electorate. I ran on a platform of care (compassion, community and courage), attending countless public forums and some high profile radio and TV interviews. In 2010, again as the federal candidate for Moreton, I led a grassroots campaign that resulted in a doubling of the primary vote to secure 15.9% – one of the highest swings to The Greens in the country. I ran as a candidate in the state by-election for Chatsworth in 2005, again in the state election for Chatsworth in 2006 and in the federal seat of Bonner in 2004.
I have stopped running for federal public office as I refuse to renounce my ability to access UK dual citizenship should I wish to or need to access it one day, but also because I've discovered other ways to contribute to social and environmental change (e.g. supporting the work of The Green Institute and Green Agenda).
My volunteer activities with the Global Greens, the Asia Pacific Greens Network and the Global Young Greens have taken me to Kenya, Brazil, Austria and Taiwan and provided me with a global network of environmental and social justice friends and colleagues.
From 2012-2015 I partnered in a Kenyan project called the Migori Health & Rights Network. This Network worked to improve school attendance among schoolgirls and empower young women with knowledge and skills for socio-economic development. I worked to support my project partner on the ground, Chris, to distribute sanitary products to girls in schools and set up a health hub for girls in the local community.